Starving Artist
Make art that follows the news for your best chances at making a sale!
Game doesn't perform as well on web, so download for a better experience.
Download
Click download now to get access to the following files:
StarvingArtistWindows.zip
13 MB
StarvingArtistMac.dmg.zip
16 MB
StarvingArtistLinux.zip
14 MB
Comments
Log in with itch.io to leave a comment.
Yay!!! I did it! thank you for this gift of a game, I really enjoyed it! <3<3<3
Nude art almost always get you an A+ wtf
This game is actually fun which is surprising because in word you draw thing related to the news section, but it is challenging.
Hey this is amazing!! First time anyone made a Let's Play for one of my games. And you guys made pretty good art too!
We all F****ed! XD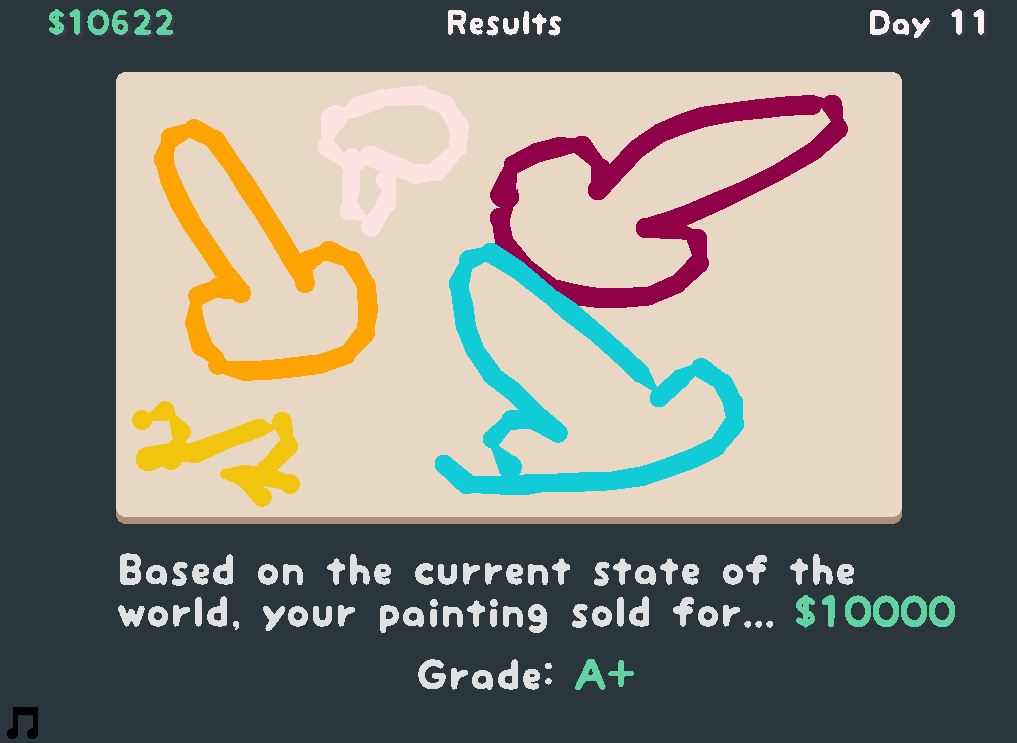 Lol I guess it was only a matter of time..
All of my previous paintings didn't work at all, and I was trying to be creative :P
The best I've got was 170$ so I just gave up and drew a bunch of penises and it worked XD
amazing work i donated

THANK YOU SO MUCH! I couldn't believe my eyes when I saw a donation. I didn't even know what a donation looked like - you are the first person to donate to one of my games!

If there is anything in particular that you really liked (or anything you'd change), I'd be curious to know so I can include that feedback in my future games!

Thanks again. I definitely feel a lot more motivated now to keep working on games. Cheers!